Learn About The 2017 MINI Hardtop 4 Door For Sale In San Jose
The 2017 MINI Hardtop 4 Door for sale in San Jose is sporty, stylish and fun to drive. Two body body styles are available: the base Cooper and Cooper S versions. The base Cooper engine is a turbocharged 1.5-liter three-cylinder that develops 134 horsepower and 162 pound feet of torque. The Cooper S is powered by a turbocharged 2.0-liter four-cylinder engine that produces 189 horsepower and 207 pound feet torque.  MINI Hardtop models come with electric power steering, performance suspension and Dynamic Stability Control system that uses sensors to measure lateral acceleration and steering angles to help with the direction you want to go.  If your MINI starts to stray while driving, the Dynamic Stability system will apply brake pressure to the wheels to adjust the engine torque. MINI of Dallas has a 2017 MINI Hardtop 4 door to suit your needs in San Jose.



Browse 2017 MINI Hardtop 4 Door Options Near San Jose
The 2017 MINI Cooper Hardtop 4 Door for sale near San Jose has plenty of option packages and individual options to choose from. Cold weather packages come with heated seats, Auto Dimming and Powerfold Mirrors. Sports packages come with 15-inch alloy wheels, sports seats and LED headlights and Dynamic Damper Controls. Technology package comes with Parking Assistant, Navigation system, Real Time Traffic information. There are plenty of Exterior and Interior package options that are available to personalize your own MINI Hardtop near San Jose.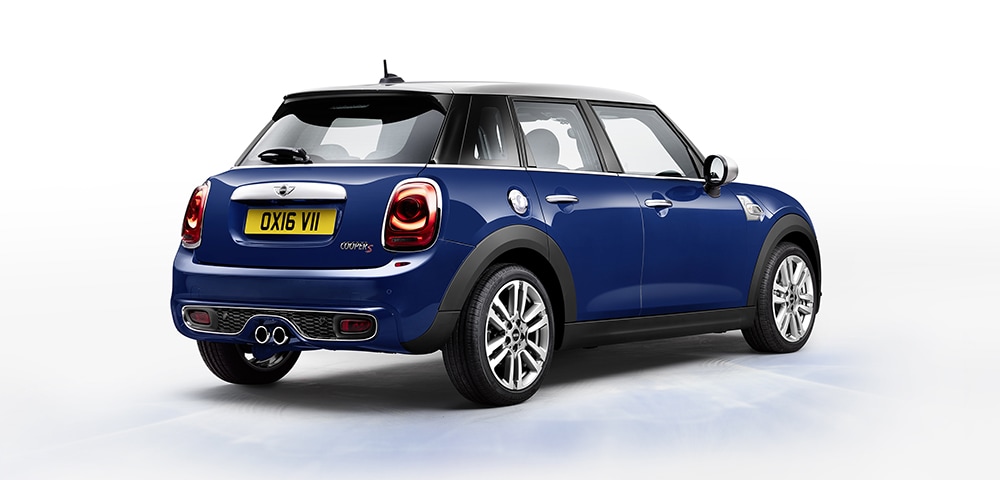 Interior Options Of The 2017 MINI Hardtop 4 Door Near Paradise
The 2017 MINI Hardtop 4 Door for sale near Paradise has a 6.5 in display screen to use for entertainment, premium Harman Kardon audio system, as well as six-speaker sound system, and Bluetooth connectivity. The front seats offer an ideal driving position with 41.4 inches in legroom and 32.3 inches for the backseat. There's seating for up to five passengers, a trunk volume of 13.1 cubic feet, and a cargo capacity of 40.7 cubic feet. The MINI Hardtop has all the space you need in a stylish package. The 2017 MINI Hardtop 4 Door is for sale near Paradise. Call us to make your appointment and take a test drive today!